We took a break from posting, but in reality ant(arctic) week followed right after insect week. The kindergartener is a huge fan of the arctic right now, so this was a long awaited theme.
The info below is split up into the following categories:
Activities to do as a family (experiments, outdoor activities, etc.)
Independent activities that the kids can do during quiet time
Books & Videos
Week 8: (ant)Arctic
Family Activities
Density Exploration
In preparation for some activities with icebergs, we spent some time reviewing density. We built a little scale of sorts out of some cardboard. Then we began with a familiar material – lego. The kids checked out the two identical bricks and placed them on either side to see how they balanced. Next, we brought out two pieces of metal with the same volume, two nearly perfect one cubic centimetre cubes. One cube was aluminum, the other tungsten. The kids put one on each side and observed how the scale moved. This allowed us to talk about mass, volume, and density. On to the icebergs!
Icebergs
The first iceberg we built was using a silicone bread loaf pan. It didn't have any really interesting characteristics, just a fun addition to the bathtub.
For the second iceberg activity, we took a frozen icecube and then turned it on its side and popped it in a space for another icecube. The result was a more interesting piece of ice that more closely mimicked an iceberg. The kids hypothesized how much of the iceberg would be under water and how much would be above water. After putting it in the bathtub, they drew in the actual water line on their iceberg drawings. Very cool conversation starter and it led to us watching some videos with icebergs flipping.
For the final iceberg, we froze a lego sabre-toothed tiger inside for fun. The look on kinder kid's face when he realized what was inside was priceless.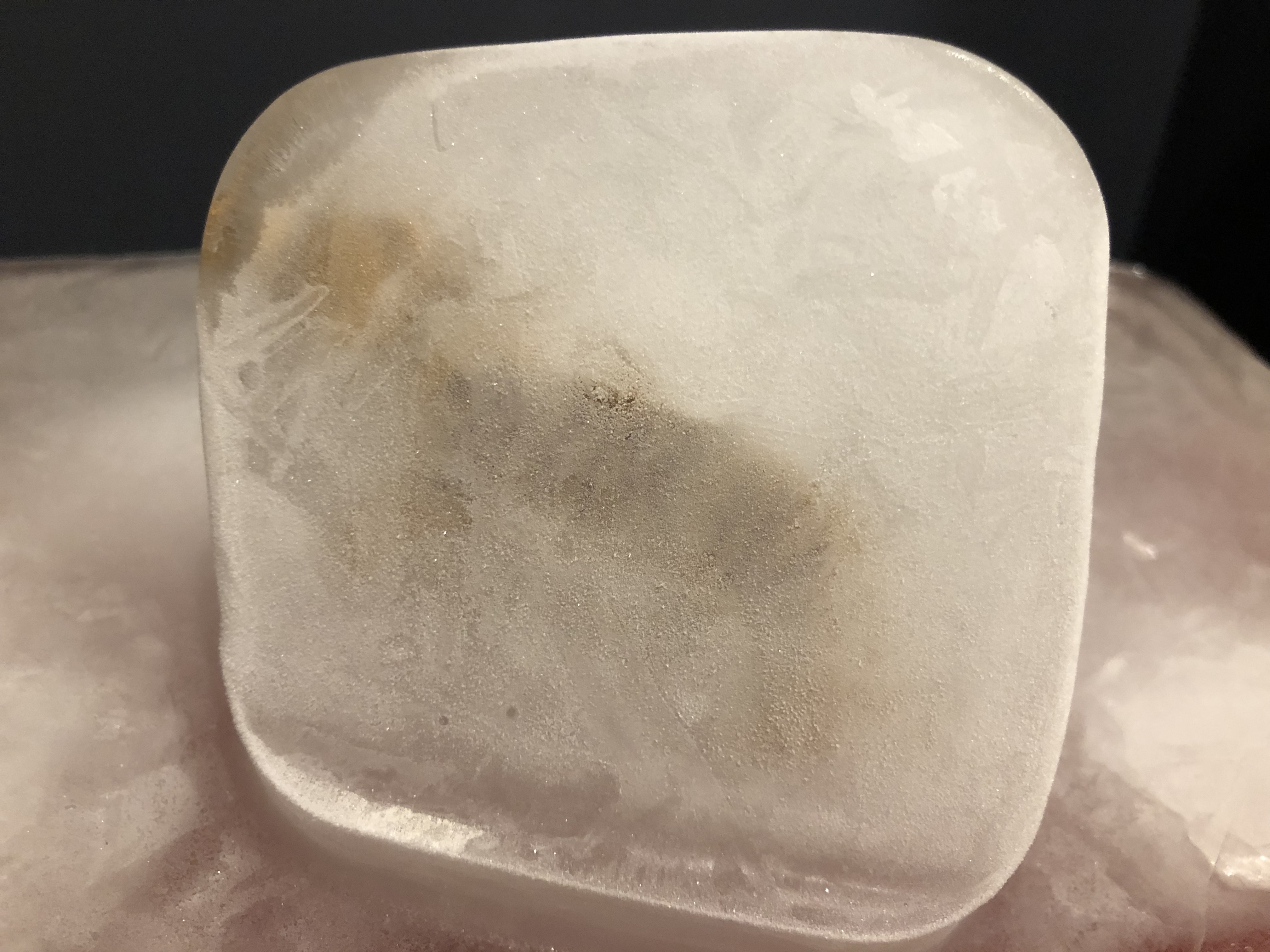 Camouflage
We brought two objects out into the backyard, one green and one white. One kid hid the two objects and the other tried to find them, and then we swapped. This was a simple but effective demonstration of the usefulness of camouflage, as the green bowl really blended in with the landscape. The white ball stuck out easily. This led to some good discussions about camouflage and the changing coats of many arctic creatures.
Blubber Experiment
Our final experiment was a classic. We made some icy water and the kiddos stuck their hand in the water with just a plastic bag around their hand. We had prepared a double layered ziploc bag with coconut oil sandwiched in the middle. The kids then put their hand in this insulated bag and put that in the water and compared the effect. This is a surprisingly effective demonstration and was fun for all of us. It was a nice pairing with the Magic School Bus episode, where the students get blubberized!
Conversing with an Arctic Explorer
One of kinder kid's goals has been to speak to an arctic explorer. We had two different conversations set, both arranged through friends of ours. One conversation with a young Inuk woman who lives in Nain is yet to come. The first conversation was with an awesome lady who works with Students on Ice. She has visited the Arctic and the Antarctic on multiple occasions and kinder kid was so excited to speak to her. He wrote up a list of questions and she graciously answered them and shared some awesome pictures & stories. This was a lovely part of the week and we are looking forward to the next conversation and the perspective she will bring.
Quiet Time Activities
We found a few larger packs of activities this time around and used many of those pages. Here are two we used:
Free Arctic Animal Worksheets
Arctic Animal Printables
Books & Videos
Books:
Videos:
Wild Kratz S01E07 Polar Bears Don't Dance (Netflix). Neat note about this one, the kids (and us!) learned about pharyngeal pouches in this episode and we did some more research afterwards.
Magic School Bus S03E02 – In the Arctic (Netflix).
Lots of videos of icebergs & icebergs flipping on YouTube.
Next week: Shapes!